The engagement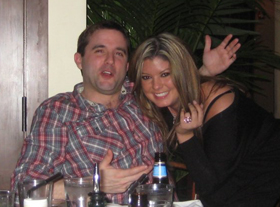 We were planning on getting engaged and had been ring shopping for a couple weeks. (Melissa wanted to pick her perfect ring) We happened to have some friends in the weekend we were shopping and some birthdays to celebrate as well. So Melissa planned a dinner for about 16 of our friends at Quartinos, a restaurant in Chicago. In the middle of dinner Robby mentioned to his friend David Bilfeld that he and Melissa were going ring shopping the next day and that was part of the reason they reserved a hotel to sleep downtown. David suggested that Robby propose right then and there while all of their closest friends were present. So Robby stood up, walked over to Melissa and got down on one knee. Then, in the middle of a packed restaurant filled with 100 strangers no less, he proposed! Everyone clapped and cheered and then we got lots and lots of free champagne. :) It was a really wonderful night indeed.
Wedding Ceremony & Reception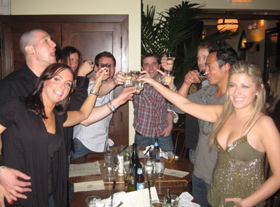 Our Wedding ceremony and reception will be taking place on the Fountain Terrace at the Four Seasons. It is a wonderful, outdoor space. It is hot in Vegas Saturday, June 9, so we will be starting the ceremony at 7 PM after the sun goes down.
We are encouraging our guests to dress in Resort or Beach formal wear. This would mean a short cocktail dress for a woman and slacks and a collared shirt for a male. Ties and jackets are very much optional.
We want our guests to be comfortable and ready for dancing and fun!